RG-AP820-L(V2) is the Ruijie's highest price-performance entry Wi-Fi 6 enterprise indoor access point. Certified by Tolly's latest Test Report , the RG-AP820-L(V2) verified on user capacity upto 1024 Wi-Fi clients, and provide upto 65% higher total throughput in legacy Wi-Fi 5 environment.
The Ruijie RG-AP820-L(V2) supports selectable dual-band dual-radio (2.4G + 5G or 5G+5G) mode to guarantee for the best compatibility and highest performance. Maximum of 2.4Gbps wireless throughput when dual 5G radio high-performance mode adopted, and upto 1.775Gbps throughput at normal 2.4G+5G mode. The RG-AP820-L(V2) fully comply with Wi-Fi 6 OFDMA Modulation, MU-MIMO, and BSS Color Spatial Reuse, allowing RG-AP820-L(V2) guarantees minimal signal interference and a maximum of 1024 client connections.
Additionally, RG-AP820-L(V2) is IoT ready with integrated module of BLE, without the need of external module and additional investment. Verified by Tolly Test Report, RG-AP820-L(V2) providing nearly line-rate throughput at 955Mbps wireless performance by built-in Gigabit uplink port.
Upon the uprising challenges of management efficiency and wireless security, all Ruijie enterprise APs support hybrid management mode. Either deployed as standalone AP (Fat mode) or managed AP (Fit mode), the AP will detect the operation mode automatically without extra effort on firmware upgrade. For additional security and operation, we recommend the enterprise customers to choose either one of the below wireless controller options depending on the functionality and capacity:
Public Cloud: Ruijie Cloud – Ruijie Public Cloud service (powered by RG-MACC) is targeted for the SME segment with integrated captive portal, authentication (such as PPSK for employees, Facebook, voucher, account, etc.), and reporting features. Together with Ruijie Cloud Mobile App (free download), SME customers can provision and manage their networks at fingertips.
Hybrid Cloud: RG-WS6000 Series Wireless Controller (on-premises) Plus Cloud Management (Optional) – targeted for enterprise office and campus with single or multiple sites and high-density AP deployment. The controller appliances are installed at the customer's site with fully integrated wireless management and authentication feature, supporting up to 5000 APs per cluster. Optionally, the cloud management platform allows for value-added features like centralized device configuration and monitoring, AI radio (RF) optimization, reporting, etc.
Private Cloud: RG-MACC Software Controller – targeted for ISP/MSP, government, or multi-national corporation (MNC) with diverse customer sites and demand on integration of their billing, portal and security systems. The RG-MACC supports unified device management, not only for wireless access points, but also switches and gateway devices.
Key Highlights:
•
Tolly Certified Performance & Capacity
•

Max 2.4Gbps by selectable Dual-Band Design
(2.4G + 5G or 5G+5G)
•

Max 1024 Client
connections
•
OFDMA, MU-MIMO and BSS Technology
for minimal wireless signal interference
•
AI Wireless Optimization
: one-click optimization powered by Ruijie Cloud technology
•
Hybrid Management
: support standalone AP to over thousands of APs with deployment options of appliances, private cloud or public cloud service
•
Mobility Management
: Free mobile app available for RG-MACC-Base private cloud or Ruijie Public Cloud customers
More+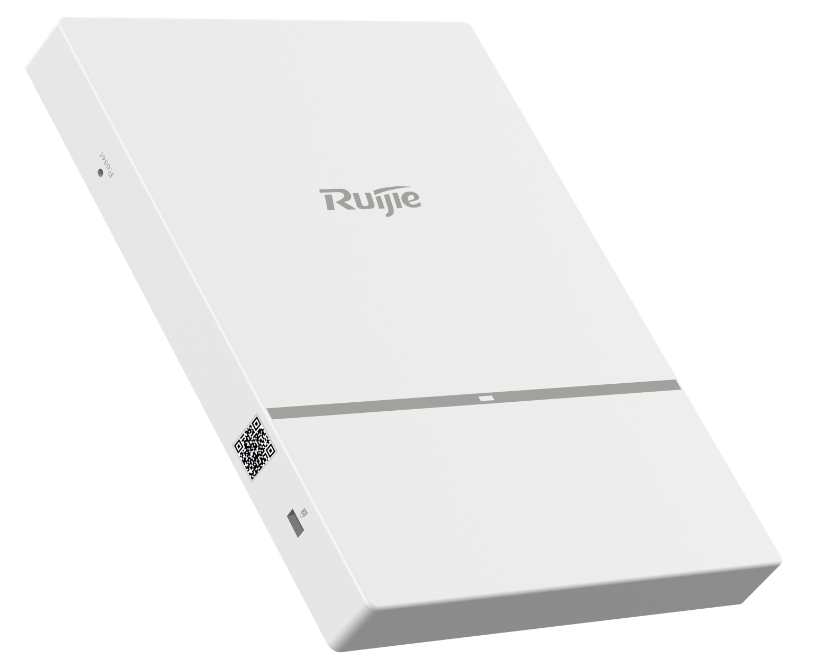 Killer Wi-Fi 6 AP
Enterprise features & experience but at disruptive pricing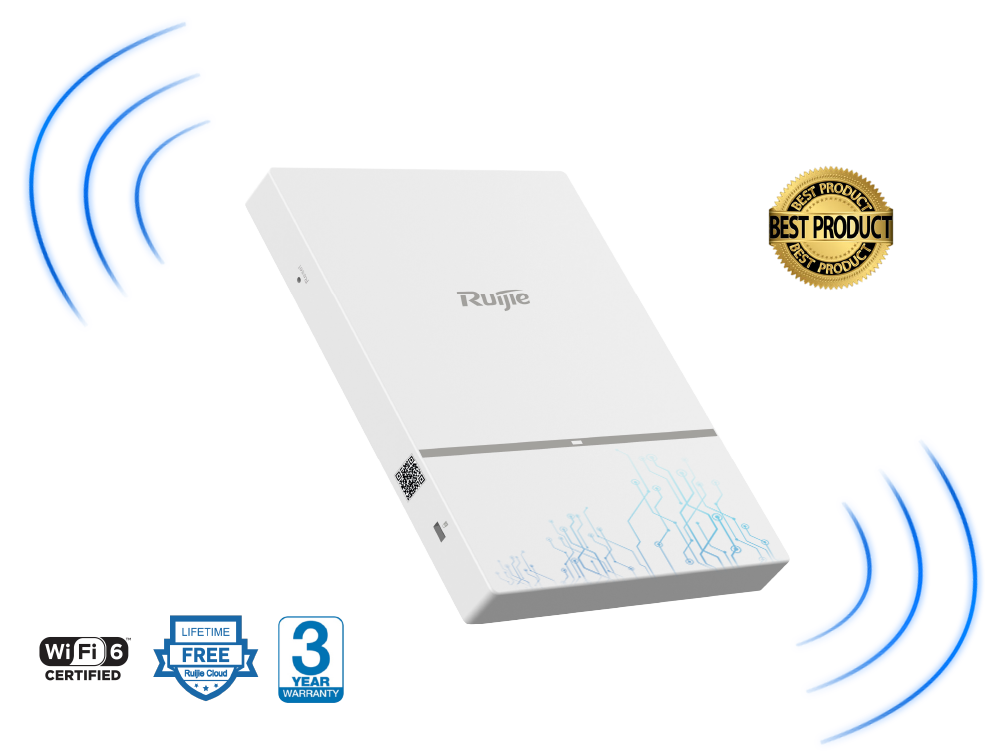 Outperform the Market Vs Huawei and Ubiquiti
Single Client 5GHz Radio Downstream Throughput (Mbps)


36%
Faster than
Huawei AirEngine 5760-10 (Wi-Fi 6)
89%
Outperform
UBNT-AC-PRO (Wi-Fi 5)
36%
Faster than
Huawei AirEngine 5760-10 (Wi-Fi 6)
89%
Outperform
UBNT-AC-PRO (Wi-Fi 5)
Source:
- Ruijie AP820-L and Huawei AirEngine 5760-10 tested by Tolly at #220111 Report (Feb 2020);
- Ruijie AP730-L, AP720-L, AP710, Huawei AP4051TN, Ubiquiti UAP-AC-PRO and UAP-AC-LR tested by Tolly at #219101 Report (Feb 2019)
Guarantee for High Density Scenarios
From latest Tolly Test Report, Tolly engineers verified Ruijie RG-AP820-L support upto 1024 Wi-Fi clients
Stylish Design
RG-AP820-L(V2) designed with slim form factor design, only 26mm in height with hidden LAN cabling design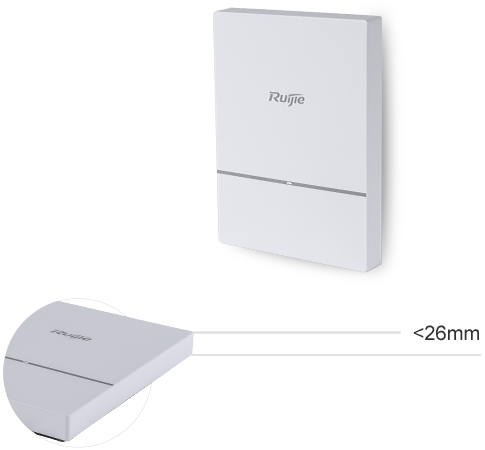 3 Installation Modes for Various Installation Environments
Ceiling Mounting


Wall Mounting


Pole Mounting


Flexible Hybrid Management
3 different management modes for selection, perfect for your ever changing business needs
Standalone
Simple & Basic Connectivity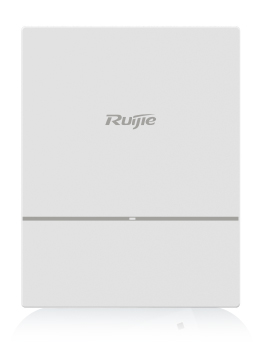 Cloud Management
Easy & Effective Choice without Provisioning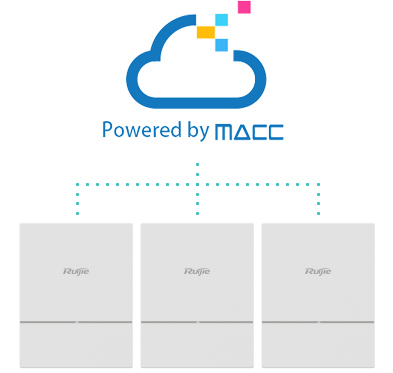 Hardware Controller
High Performance with 3rd Party Integration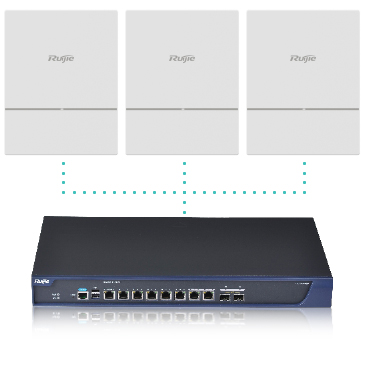 Learn More
Secure the Wi-Fi Access
Various enterprise authentication options for guests and employees (Ruijie Cloud or Wireless Controller needed)


Setup the Wi-Fi in 3 min
Managing your network at Fingerprint, from provisioning, monitoring, configurations to optimization.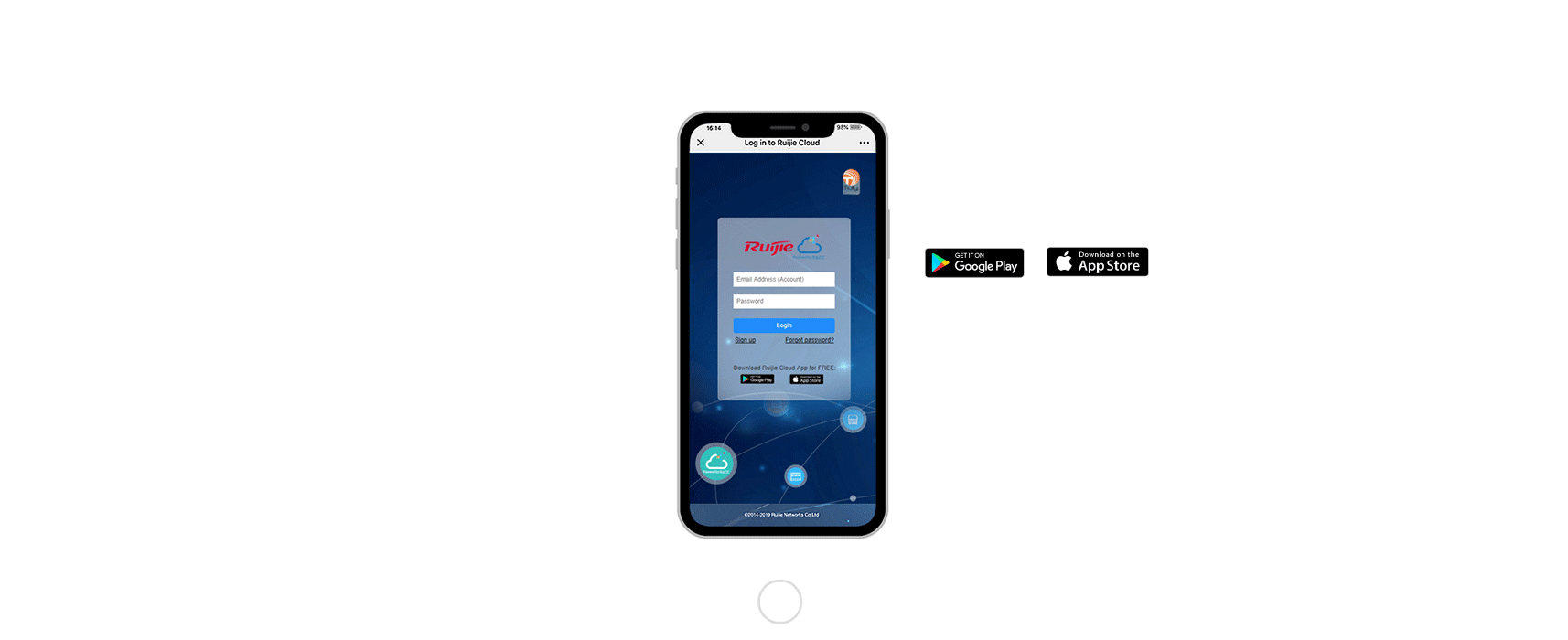 Watch Video
Model

RG-AP820-L(V2)

Hardware specifications

Radio

Dual-radio dual-band:

Radio 1: 2.4G 11ax/5G 11ax: 2×2 MIMO

Radio 2: 5G 11ax: 2x2 MIMO

Protocol

Supports standard 802.11ax, dual-radio dual-band, concurrent 802.11ax and 802.11a/b/g/n/ac

Operating Bands

802.11b/g/n/ax :2.4G ~ 2.483GHz

802.11a/n/ac/ax : 5.150~5.350GHz,5.47~5.725GHz,5.725~5.850GHz (vary depending on different countries)

Spatial Streams

Up to 4: 2×2:2 in 2.4GHz , 2×2:2 in 5GHz

Max Throughput

Maximum throughput (5G+5G mode) per AP: 2.4Gbps

Radio1:5G low band 1.2Gbps

Radio2:5G high band 1.2Gbps

2.4G+5G operation mode, maximum throughput per AP: 1.775Gbps

Radio1:2.4G 0.574Gbps

Radio2:5G 1.2Gbps

Modulation

OFDM:BPSK@6/9Mbps,QPSK@12/18Mbps,16-QAM@24Mbps,64-QAM@48/54Mbps

DSSS:DBPSK@1Mbps,DQPSK@2Mbps,and CCK@5.5/11Mbps

MIMO-OFDM:BPSK, QPSK, 16QAM, 64QAM, 256QAM and 1024QAM

OFDMA (up to 1024-QAM)

Receiver Sensitivity

11b:-96dBm(1Mbps),-93dBm(5Mbps),-89dBm(11Mbps)

11a/g:-91dBm(6Mbps),-85dBm(24Mbps),-80dBm(36Mbps),-74dBm(54Mbps)

11n:-90dBm(MCS0),-70dBm(MCS7),-89dBm(MCS8),-68dBm(MCS15)

11ac HT20:-88dBm(MCS0), -63dBm(MCS9)

11ac HT40:-85dBm(MCS0), -60dBm(MCS9)

11ac HT80:-82dBm(MCS0), -57dBm(MCS9)

11ax HT80:-82dBm(MCS0), -57dBm(MCS9), -52dBm(MCS11)

Antenna

Integrated antenna design

Antenna Gain

2.4G: 3dBi

5G: 3dBi

Service Ports

1 10/100/1000M Ethernet ports, PoE In

Management Port

1 console port

Reset Button

Support

Anti-theft Lock

Support

LED Indicator

1 LED indicator (Support red, green, blue, orange and flashing mode, which indicates device access)

Transmit Power

≤100mw(20dBm) (vary depending on different countries)

Adjustable Power

1dBm

Power Supply

Local power supply (DC 48V/1A) (DC Power adapters should be purchased from third-party vendors separately if needed)

PoE (802.3af) – full spectrum operation

Power Consumption

<12.95W

Physical Specifications

Temperature

Operating Temperature: -10°C to 50°C

Storage Temperature: -40°C to 70°C

Humidity

Operating Humidity: 5% to 95% (non-condensing)

Storage Humidity: 5% to 95% (non-condensing)

Installation Mode

Ceiling/wall-mountable

Dimensions (W x D x H)

153mm ×193mm x26mm(Height of the AP only, excluding the mount kit)

Weight

≤0.5kg (include mount kit)

MTBF

250,000 hours

Certifications and Compliance

Wi-Fi Alliance

· Wi-Fi CERTIFIED™ a, b, g, n, ac

· Wi-Fi CERTIFIED 6™

· WPA3™-Enterprise, Personal

· Wi-Fi Enhanced Open™

· Wi-Fi Agile Multiband™

· WMM®

Safety Standard

GB4943, EN/IEC 62368-1

EMC Standard

GB9254, EN301 489

Radio Standard

SRRC, EN300 328, EN301 893

Software Specifications

WLAN

Maximum clients per AP

1024 (Recommended Client: 64)

BSSID capacity

Up to 32

SSID hiding

Support

5G Priority (Band Steering)

Support

Configuring the authentication mode, encryption mechanism and VLAN attributes for each SSID

Support

Remote Intelligent Perception Technology (RIPT)

Support

Intelligent device recognition technology

Support

Intelligent load balancing based on the number of users or traffic

Support

STA control

SSID/radio-based

Bandwidth control

STA/SSID/AP-based bandwidth control

Data encryption

WPA(TKIP), WPA-PSK, WPA2(AES), WPA3, WEP(64/128 bits)

PSK and web authentication

Support

PPSK authentication (For Employee)

Support (require wireless controller)

802.1x authentication

Support

PEAP authentication

Support

Data frame filtering

Whitelist, static/dynamic blacklist

User isolation

Support

Rogue AP detection and countermeasure

Support

Dynamic ACL assignment

Support

RADIUS

Support

CPU Protection Policy (CPP)

Support

Network Foundation Protection Policy (NFPP)

Support

IP

IPv4 and IPv6 address

Support

Multicast routing

Multicast to unicast conversion

DHCP service

DHCP Snooping, Option 82, Server, Client

Management and Maintenance

Supported wireless LAN controllers

Ruijie WS Series Wireless Controller

Ruijie MACC-Base Software Controller

Ruijie Cloud (Public Cloud)

Management protocol

Telnet, SSH, TFTP, Web

Wireless Intelligent AI Optimization Service (WIS)

Support

SNMP

SNMPV1,V2c,V3

LLDP

LLDP, LLDP-MED, LLDP-POE

Syslog / Debug

Support

FAT/FIT/MACC mode switching

Factory default firmware supports FAT (standalone) or FIT mode (WS controller) or MACC mode (Ruijie MACC-Base or Ruijie Cloud) management