Ruijie Reyee Series RG-EAP602 is a high-power outdoor omnidirectional dual-band wireless access point supporting 802.11b/g/n/ac, which is designed for villages, villas, parks, scenic spots, plazas, etc. With concurrent 2.4GHz and 5GHz, the AP supports dual-band dual-stream MIMO technology, which can provide 300Mbps at 2.4GHz, 867Mbps at 5GHz and up to 1167Mbps per AP. The built-in omnidirectional high-gain antennas provide excellent coverage for the users.
RG-EAP602 supports Self-organizing network features, which realizes auto-discovery, auto-networking and auto-configuration of devices without the need for controllers or Internet access. With the mobile app, users can quickly complete the device deployment and configuration, remote management, operation and maintenance of the entire network, which greatly reduces the investment of equipment cost, labor cost and time cost in the process of wireless network construction. Users can perform comprehensive local management or remote management of the equipment in the entire network via the mobile app, web management, Ruijie Cloud platform, Router, etc. Users can also share the network to third party for collaborative management, thereby offering a simpler, easier to use, more secure and convenient enterprise network.
Highlight:
•
802.11ac Wave2 technology
•
Auto-provisioning via Self-Organizing Network:Supports Ruijie's self-developed smart networking feature, which breaks through the product limitations and realizes auto-discovery, auto-networking and auto-configuration between routers, switches, and wireless APs without the need for controllers or Internet access;
•
Lifetime free Ruijie Cloud management: Remote fault alarm, one-click optimizing and maintenance on Ruijie Cloud App;
•
Stable wireless service under harsh environment: Surge Protection 6KV | IP Rating IP68 | Operating temperature: -30°C~65°C
More+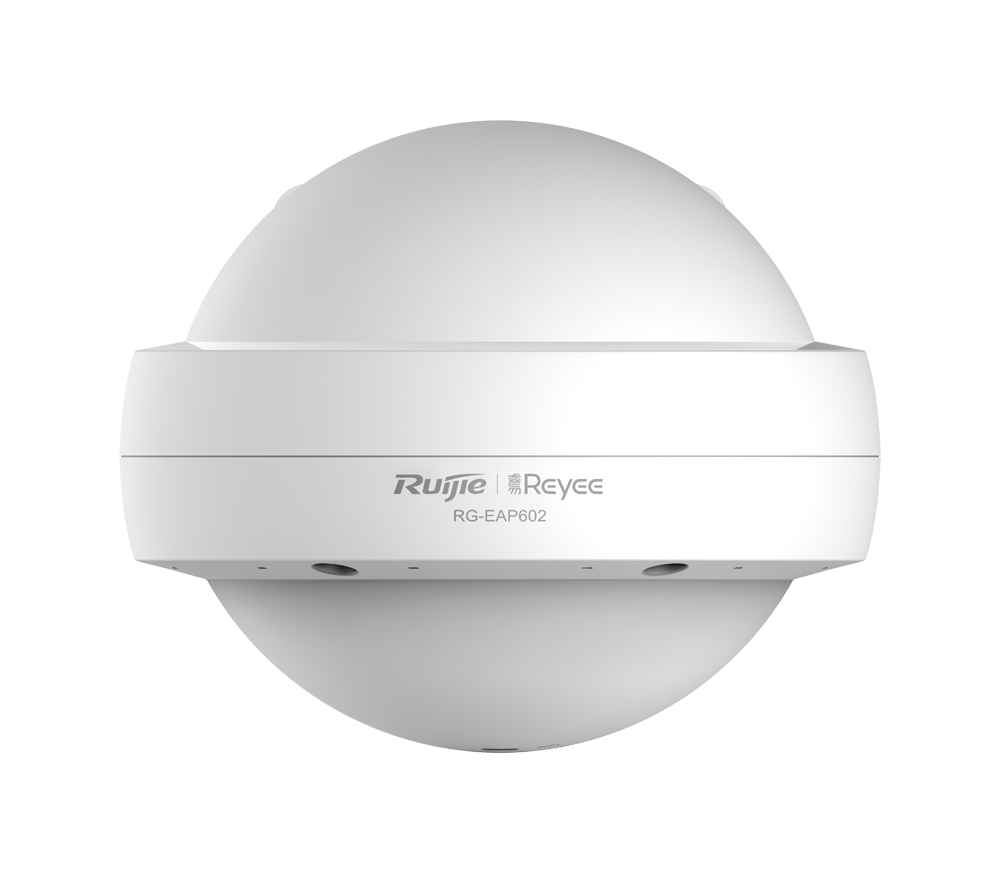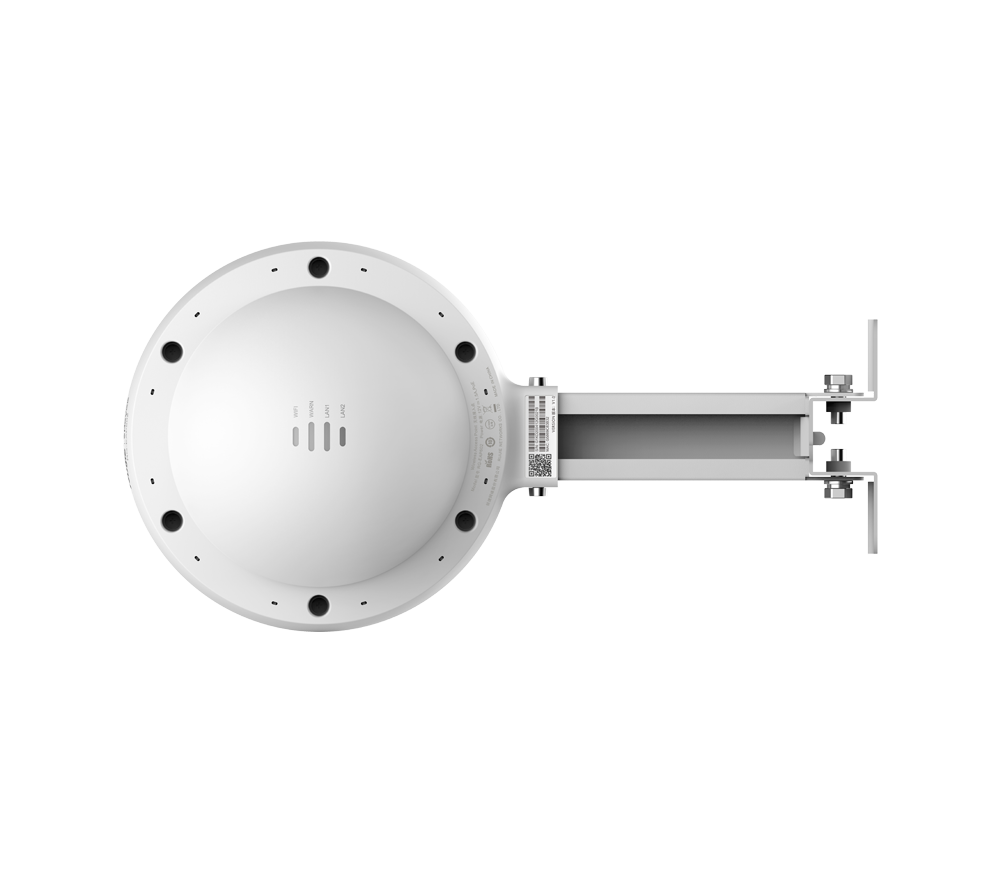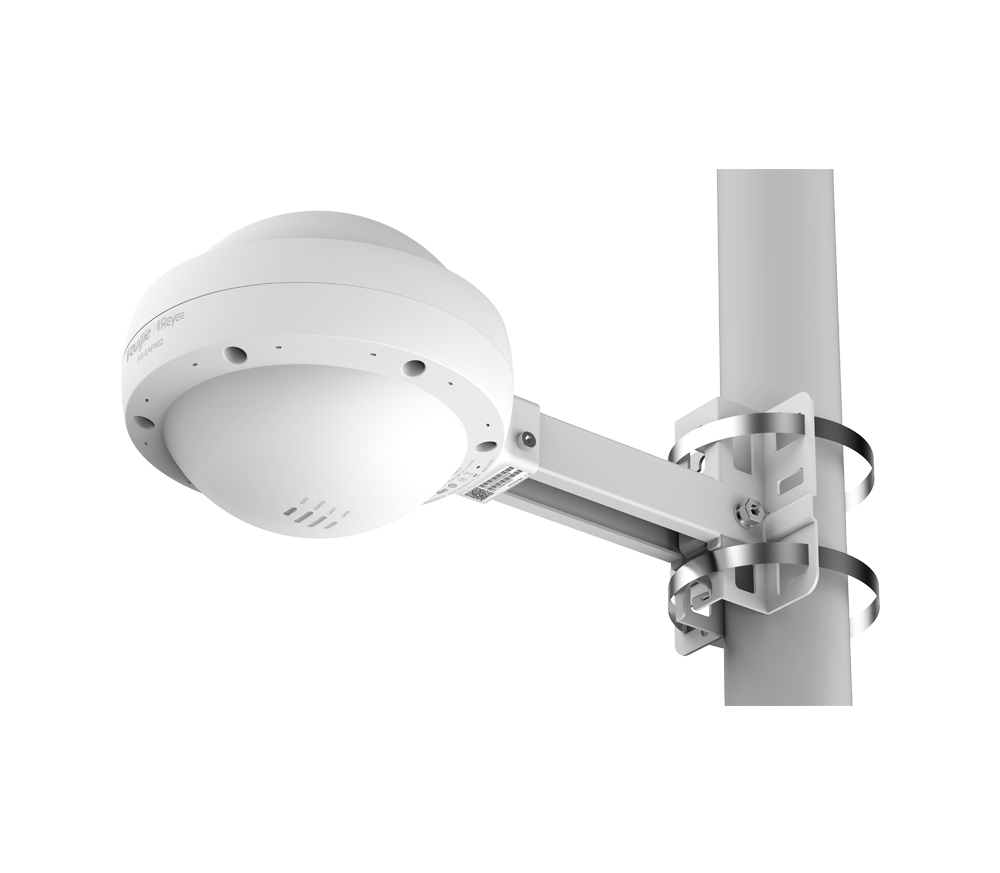 Separate mounting bracket installation
With the separate mounting bracket installation, equipment installation can be completed quickly in two steps, reducing the difficulty of working at heights.
Step 1: Fix the sheet metal bracket to the wall with expansion screws, or fix it to the pole with pole clamps.
Step 2: Insert the AP into the slot of the sheet metal bracket and fix it with screws.
Dual power supply
RG-EAP602 supports 802.3af/at PoE and DC12V local power supply. The two power supply modes can be connected concurrently to offer power redundancy, avoiding power failure caused by lightning damage to the power supply and greatly improving outdoor operation reliability.
Dual Ethernet ports
The 2 gigabit Ethernet ports can directly connect to cameras or cascade switches, which greatly enriches the outdoor networking solutions and application scenarios. The AP is an ideal choice for the hybrid deployment of outdoor wireless coverage and outdoor surveillance.
Smart networking
The AP supports 3 networking modes including router management, Ruijie Cloud platform management and smart network management. It can work with Reyee routers, smart PoE switches and APs for unified discovery, networking, configuration and management. It can also operate under routers of any brand without hardware controller, thereby reducing the cost of network construction or transformation.
High-performance wireless access
RG-EAP602 supports 802.11n@2.4GHz and 802.11ac@5GHz, offering access rate of 300Mbps at 2.4Ghz, 867Mbps at 5GHz and up to 1167Mbps per AP. The superior wireless performance greatly optimizes the wireless users' network experience. The 164 maximum concurrent clients and up to 300m coverage radius also significantly improve the deployment result of outdoor wireless scenarios.
Excellent environmental adaptability
RG-EAP602 offers an IP68-rated enclosure that fulfills waterproof, dustproof, damp-proof and flame-retardant requirements to withstand harsh environments such as wind erosion, rain and high humidity. The features greatly lengthen the equipment life span and effectively reduce the maintenance cost.
The industrial-grade components and enclosure can withstand a wide temperature range from -30°C to 65°C without any influence on the stability and life span, which is very suitable for the harsh outdoor environments including the cold weather and humid weather.
AI network optimization
Intelligent network management and optimization can be achieved through artificial intelligence, including but not limited to:
Automatically recognize and add the new equipment to the network
Automatically avoid WAN address conflict
Smart network topology display and diagnosis
Network optimization and radio frequency adjustment
| | |
| --- | --- |
| Model | Description |
| RG-EAP602 | 802.11ac Wave2 high-power outdoor omnidirectional dual-band wireless access point, built-in high-gain omnidirectional antennas, maximum access rate: 300Mbps+867Mbps, support 802.11a/b/g/n/ac, DC power supply and PoE (DC power adapter or PoE power module are sold separately) |
Hardware Installation Guide
Product Datasheet
Web-based Configuration Guide
Software Download
User Guide